Dean, industry services practitioner named TESDA idols
MANILA – The Technical Education and Skills Development Authority (TESDA) has named this year's winners for "Idols ng TESDA" during the online awarding ceremonies on Tuesday.
Ryan Mejia, PhD, from Region IV-A, an academician who currently serves as the Dean of the College of International Tourism and Hospitality Management in Lyceum of the Philippines in Batangas City, was the National Winner for the Wage-Employed category.
He is also a certified TVET (Technical-Vocational Education and Training) trainer who has TESDA National Certificates (NCs) I, II and III in Food and Beverage, Ship Catering Services, Travel Services and Events Management Services and a holder of Trainers Methodology Certificate (TMC) I.
Mejia authored a research titled "Industry Partners Perspective on Cruise Line Management Trainees: Basis for Improved Internship Program" which was published in the International Journal of Hospitality Management in 2017.
He was also recognized for his outstanding contribution as an expert on Restaurant Servicing during the 2019 Worldskills Competition in Kazan, Russia.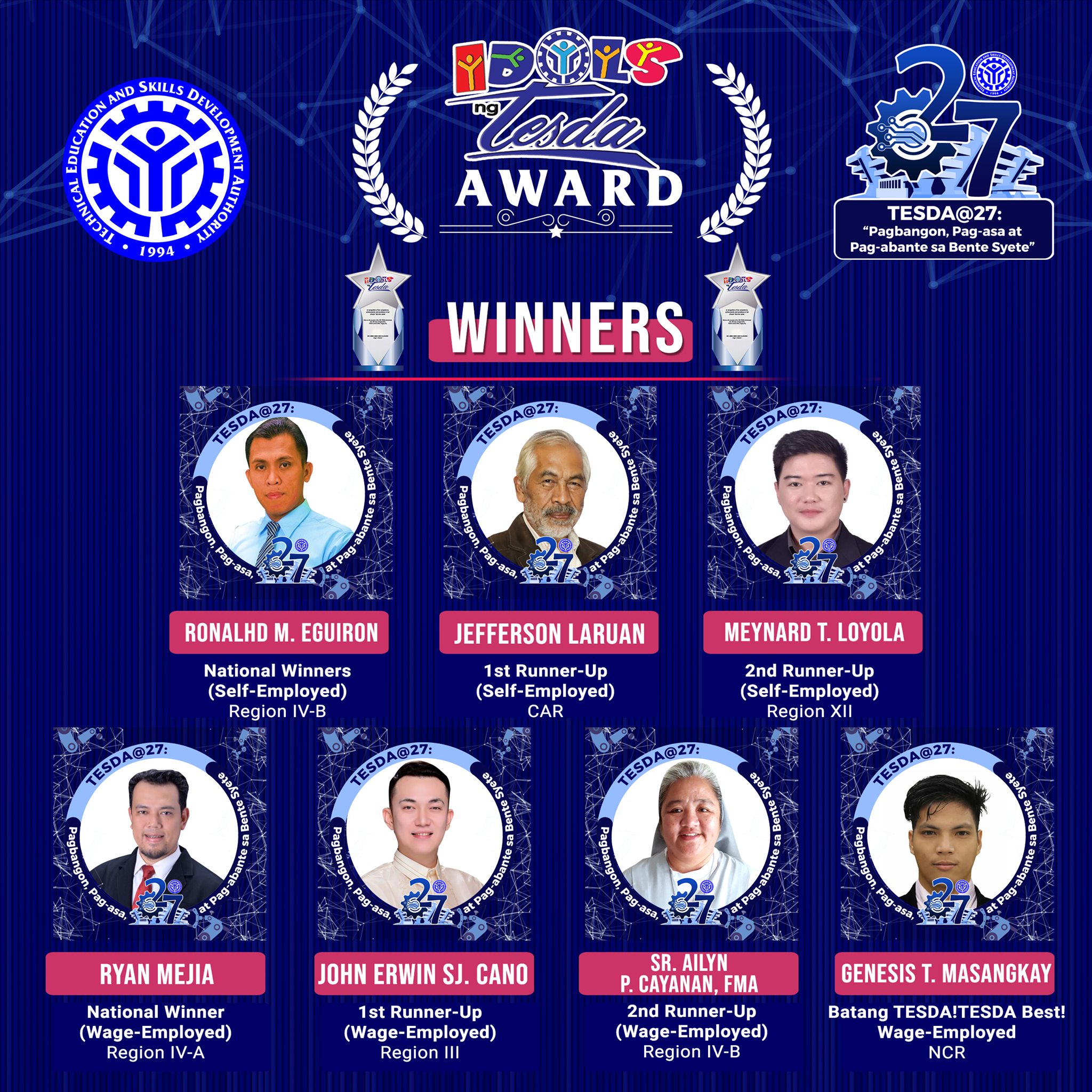 On the other hand, industry services practitioner Ronalhd Eguiron, from the Mimaropa Region, was the National Winner for the Self-Employed Category.
Eguiron is a multi-skilled TVET trainer and a holder of NC I and II in Front Office Services and Housekeeping and National TVET Trainer Certificate (NTTC) I and TMC I.
Through TESDA trainings, Eguiron was able to put up his own training school, St. Mark Arts and Training Institute, in 2017 that offers seven TESDA-registered programs in tourism-related qualifications.
He plans to pursue other TESDA qualifications that will cater to more relevant programs and diploma courses for his trainees.
The other winners in the Wage-Employed category were college instructor John Erwin Cano from Region III, first runner-up; and school directress Sr. Ailyn P. Cayanan, also from Mimaropa, second runner-up.
Rounding up the winners' roster in the Self-Employed category were farm owner Jefferson Laruan from the Cordillera Administrative Region, first runner-up and also the Senior Idol; and cosmetologist Meynard Loyola from Region 12, second runner-up and Batang Technopreneur.
Barista and social media marketer Genesis Masangkay from the National Capital Region was named Batang TESDA, TESDA Best winner.
The winners and special awardees received cash prizes and plaques of certification.
The Idols ng TESDA Award is held annually to honor the agency's outstanding technical TVET graduates.
It is one of TESDA's Institutional Awards as part of the agency's anniversary celebration and in commemoration of National Tech-Voc Day.
Qualified nominees are TVET graduates who are Filipino citizens, at least 21 years old, and with outstanding achievements related to his/her trade within the last three years.
They were also nominated by legitimate civic, social, religious, labor or industry organizations whose membership affiliations are in line with his/her work or business. (PR)