'Another terror attack in Kabul is likely,' White House says – live – The Guardian
https://www.theguardian.com/us-news/live/2021/aug/27/us-politics-live-joe-biden-afghanistan-democrats-republicans-latest-news
The House of Representatives committee investigating the deadly insurrection at the US Capitol on 6 January by extremist supporters of Donald Trump is seeking social media records involving people linked to the riot.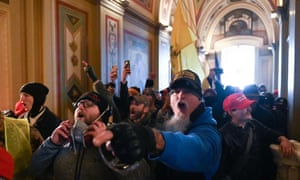 The news came shortly after the special committee issued its first round of sweeping demands for records from multiple US government agencies.
In a statement released on Wednesday, the committee revealed that it has sent its initial demands to various executive branch agencies including the National Archives and Records Administration, the departments of Defense, Homeland Security, Interior and Justice, the FBI, National Counterterrorism Center and the Office of the Director of National Intelligence.
The committee chairman, Bennie G Thompson, a congressman from Mississippi, gave the agencies a two-week deadline to produce materials. In a statement, Thompson wrote, "Our Constitution provides for a peaceful transfer of power, and this investigation seeks to evaluate threats to that process, identify lessons learned and recommend laws, policies, procedures, rules, or regulations necessary to protect our republic in the future."
The letters sent to the agencies seek records dealing with a variety of matters related to the 6 January attacks, including intelligence gathering and dissemination before the attack, security preparations around the Capitol, the role agencies played in the Capitol's defense, event planning and organization in Washington on 5 and 6 January, and how the attacks fit in the continuum of attempts to overturn the 2020 election results.
Then on Thursday, the Reuters news agency reported, the committee requested major social media companies, including Facebook, Twitter, and Alphabet's Google to turn over records of messages related to the assault.
We'll have more for you as this story develops.