90 sentinel hogs distributed in ASF-hit villages in NoCot
https://www.pna.gov.ph/articles/1152693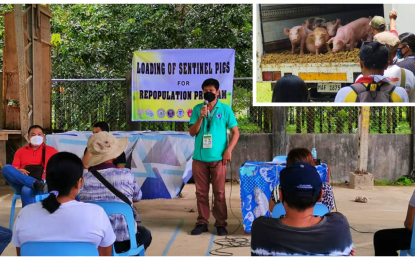 KIDAPAWAN CITY, North Cotabato – The Department of Agriculture-Region 12, in partnership with the Office of the Provincial Veterinarian (OPVet), started Monday the distribution of sentinel hogs to villages affected by the African swine fever (ASF) in the province. 
Dr. Rufino Sorupia, the provincial veterinarian, said two villages — Barangays Linangkob in this city and Malungon in Makilala town — identified as pioneering areas will get at least 30 hogs. 
He said Barangay Linangkob will be the recipient of 22 sentinel hogs, while Barangay Malungon will receive eight hogs. 
In the next few days, Sorupia said the remaining 60 hogs will be dispensed to other ASF-affected hog raisers in the neighboring towns of Magpet, Arakan, Makilala, and President Roxas.
"This will serve as an experimental phase to determine if the virus still exists or we could start reproduction in these areas," he said. 
Sorupia said repopulation may be possible if the hogs survive in 90 days. 
Recently, the OPVet conducted an ocular inspection of various hog farms to ensure that safety standards are in place, including water supply, septic tank, and necessary disinfection protocols. 
"We are imposing strict biosecurity compliance to ensure the safety of the hogs against any viruses", he said. 
Based on OPVet data, the ASF infestation in the province that took place between July to December last year wrought some PHP16 million worth of damages to the local hog industry that affected a total of 736 hog raisers here and in the towns of Arakan, Makilala, President Roxas, and Magpet. 
"Yet, the situation is improving because zero ASF cases were reported in the province since January this year," Sorupia added. (PNA)