23K Metro Manila cops fully vaccinated vs. Covid-19
https://www.pna.gov.ph/articles/1152753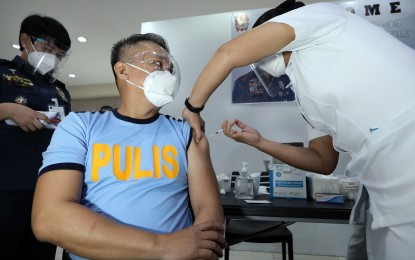 MANILA – Around 73.46 percent or 23,003 personnel of the National Capital Region Police Office (NCRPO) have been fully vaccinated against the coronavirus disease 2019 (Covid-19).
In a statement Monday night, NCRPO chief Maj. Gen. Vicente Danao Jr. said around 22.48 percent of 5,170 personnel got their first dose while the remaining personnel have yet to get the jabs.
"These vaccines are effective at protecting the recipients against severe disease and death from variants of the virus that causes Covid-19 currently circulating. In this regard, fully vaccinated personnel who contracted the virus were mostly asymptomatic and experienced only mild symptoms," Danao added.
Meanwhile, those who tested positive after getting their first dose were mostly asymptomatic or only experienced mild symptoms.
"We are not only protecting our men but also the people to whom we pledged to serve," Danao said.
As of Monday, Danao said a total of 6,022 Covid-19 cases in the NCRPO have recovered.
Meanwhile, the NCRPO currently has 245 active cases.
Danao further encouraged the remaining unvaccinated personnel to do their part and protect themselves, their community, families, and loved ones. (PNA)