AFP chief rallies troops to end Reds' threat
https://www.pna.gov.ph/articles/1160977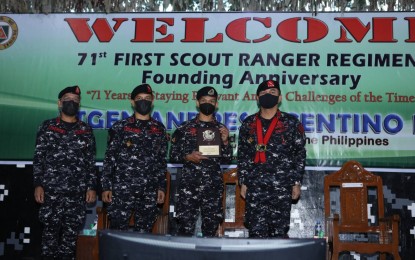 MANILA – Armed Forces of the Philippines (AFP) chief Lt. Gen. Andres Centino urged the First Scout Ranger Regiment (FSRR) and other military elite units to intensify their operations to put an end to the communist insurgency in the country.
"The coming year is crucial because we are intensifying our operations to end local communist armed conflict. In the past our campaign reaches only a certain point, ngayon lang tayo nakaramdam na kaya natin tapusin (now is the only time that we feel that we can end them) with the last remaining seven months," Centino said during the celebration of the 71st anniversary of the FSRR at Camp Pablo Tecson in San Miguel, Bulacan Thursday.
"With the full commitment of our elite units, especially our Scout Rangers, I believe it can be done," he added.
The AFP chief also led the wreath-laying ceremony at the Scout Ranger Memorial in honor of its members who died in various campaigns and combat missions.
"The FSRR has been one of the AFP's elite fighting forces against various threat groups. The proficiency of our Rangers is known worldwide and there is no question in the mentality and ferocity of our Scout Rangers in confronting threats to our security," Centino said.
He also facilitated the awarding and recognition of outstanding units, officers, enlisted personnel, and stakeholders for the ribbon-cutting and inauguration of the new AFP Commissary and Exchange Service in Camp Pablo Tecson. (PNA)