DepEd appeals hike in elections honoraria for teachers
https://www.pna.gov.ph/articles/1161000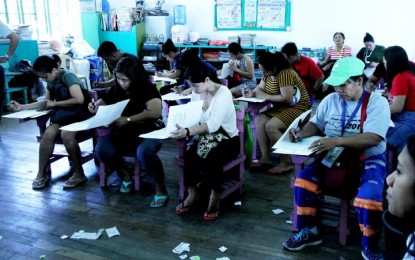 MANILA – The Department of Education (DepEd) is appealing for an increase in the honoraria of teachers who will serve as poll workers in the May 2022 elections.
In a news release issued Friday, Secretary Leonor Briones said the department would coordinate with the Commission on Elections (Comelec) for the request.
"Although it is less than our proposed increase for our teachers who will serve as poll workers, we appreciate the adjusted rates, and we will coordinate with Comelec for a possible increase of the honoraria and other allowances and benefits," Briones said.
The Comelec released their approved new honoraria and allowances for the members of the electoral board (EB) and other poll workers last November 10.
The granted rates, however, were below DepEd's proposed remuneration.
Last June, the department prescribed the following honoraria rates — PHP9,000 for chairpersons; PHP8,000 for electoral board members; PHP7,000 for DepEd supervisor official (DESO); and PHP5,000.00 for support staff.
Health insurance coverage for those who will be infected with the virus was also requested, as well as other benefits such as on-site swab testing, shifting, and working hours of public school teachers in the electoral board, tax exemption, among others.
Based on Comelec Resolution No. 10727, teachers who render election-related services are entitled to the following honoraria: chairperson of the electoral board, PHP7,000; electoral board members, PHP6,000; DepEd supervisor official, PHP5,000; and support staff, PHP3,000.
The chairperson and members of the electoral board and DESO and their staff are also entitled to PHP2,000 travel allowance — PHP1,000 for the day of final testing and sealing of the vote-counting machine and another PHP1,000 for election day.
The DESO and DESO technical support staff will receive a communication allowance of PHP1,500 and members of the EB, DESO, and their team are entitled to an anti-Covid-19 allowance of PHP500.
Based on the resolution, the honoraria and allowances will be paid within 15 days from the date of the election.
If those rendering election services die due to election-related risk, they will be entitled to death benefits amounting to PHP500,000. If they suffer election-related injury or illness, they are eligible for medical assistance amounting to PHP200,000. (PR)